One of the best pleasures in Canadell is, after having the lunch, to lay about two hours on the sand under a boat
Josep Pla, the great writer of the Costa Brava and Ampurdan, wrote this impression from the beach in which he spent so many summers, in the family villa, still standing. He wrote this feelings almost a century ago in his early work "The Grey Notebook". Today we recall the same spirit and visit this beach, also close to other great places to visit, as Llafranc, Port-bo, or Sant Sebastia Lighthouse.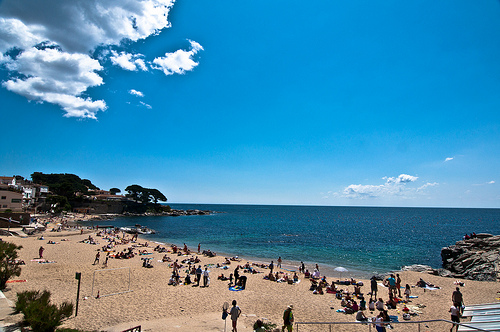 Canadell beach is small and very familiar. It has a length of 200 meters and about 27 meters wide. The sand is somewhat grainy. Access is easy, and you can arrive on foot, by car or even public transport.
One of the main attractions of the beach is the seaside boulevard. Superbly conditioned, it offers to the visitors views of the villas, some of them some centuries old, as that historically linked to writer Josep Pla, which belonged to his family and where they enjoyed together the summer. The winter villa is in Llofriu: and it's called the Mas Pla. As the sunny and warn weather approached in summer many families in those years used to move out next to the sea, to the coast of Palafrugell.
Other special feature of this landscape is the large rock that sits on your right, "the chair", a projection of rock from which many young people plunge into the sea.
In Canadell beach many people know each other. This beach is so familiar and small that many visitors repeat every summer and have the opportunity of meeting the same passionated people of the place.
Don't miss the elegant coastal path that, on the north side of the beach, leads to Llafranc bay, just 15 minutes away.